From the 13th to 15th January 2019 in La Clusaz, what for 18 years used to be the "Snow Avant-Première" took on its new identity as the "Rock On Snow Pro". For the occasion, 458 retailers and 48 brands were present at the foot of Balme's mythical, snowy massif, to discover and test out equipment a year in advance. 
Ideal conditions for the tests
After weeks and weeks of scarcity, the snow turned up to the party just in time to provide test conditions which were appreciated by the professionals. 20 centimetres of powdery snow on Sunday and 20 more on the Tuesday meant the testers were able to enjoy a beautiful sunny day.
Heard at the event: "I've got three days to choose well for next year, and make my customers happy." said one retailer, as another raved about the arrival of snow: "The snow we've been waiting for for months is finally here, so we couldn't have asked for more"; "The interesting part is testing out the maximum number of ranges, so as to be right on the ball in terms of giving advice".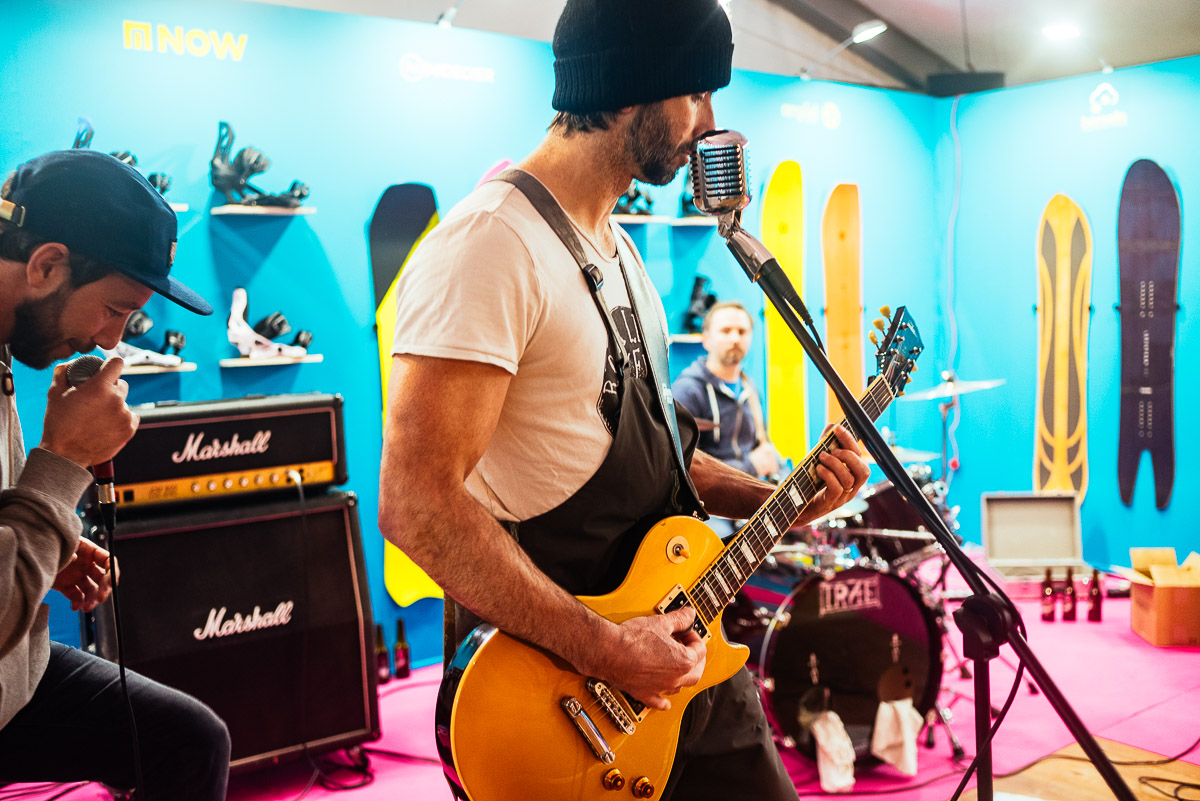 The theme this year: the 80s
"A sport has to be of a certain maturity in order to be able to look back appreciatively at its history."
Peter Bauer – Snowboard pioneer – Founder of Amplid
The 80s theme takes us on a journey of the history of snowboarding – a return to its roots and its values.
"We're working, but in a pleasant atmosphere"
Franck Rossignol – Burton Snowboard
And so, late on Sunday afternoon, in a pink, blue and yellow tent (fluorescent, obviously), the industry's players took up their guitars, microphones and drumsticks for a friendly concert before an audience of colleagues and retailers, to great applause and well-natured hollering.
New for 2019: the Rock On Base Camp
The hollering went on until the late evening, when there was a memorable and lively meal, heartily baptising the Rock On Base Camp; it's a great innovation in the form of a private hotel for retailers and brands. Indeed, it was the Hotel Beauregard, part of the High Five Palace group, that donned itself in the Rock on Snow Pro colours, in partnership with the PVG group.
"Snowboarding is a big family, and one important aspect is being able to bring together the brands and shops at a gathering which is more informal than in the village".
To round off Sunday evening, Peter Bauer paid tribute to his friend and snowboard pioneer Jean Nerva: it was an emotional moment which united those present under the banner of a common history. This common history continued over the next 3 days, finishing under a clear blue sky, which rightly promises so much.
Rock On Snow Pro – key figures:
798 testers (+ 3% n-1// +5% n-2)
458 retailers (+7% n-1 // +9% n-2)
3451 tests (5.2 tests per person)
48 brands
Press contact
Florence Pezet-Bertrand –  Tél : +33 (0)4.58.58.23.04  –  florence@sportair.fr – (Photo link)
Testimonial – Rock On Snow Pro La Clusaz
Eric Gros, Hawaï Surf
"It's a giant toy store; you come along, choose your toys, your fixes; there's nothing better".
Nicolas Compan – Easy Snowboard (France Val d'Isère)
Having come two years ago, we decided to come back this year with a more polished collection, as it's always good to have people test out our products. It allows us to get direct feedback, to make technical modifications before starting production, to see if people like the board graphics, if they're what's trending in the market.
The first day started quietly, but ended up being quite lively in the end. It gave us the opportunity to get to know some shops we didn't previously know. They're interested in Easy and ask a lot of questions. It's still a novelty, although we're now on our 4th collection. Taking part in Rock On Snow Pro is an enriching experience; you get to meet a lot of people – testers, shop owners and younger sales assistants. It helps us work out where we are, and also how to improve the way we do things.
Damien Fenart, MD Green Door for Nitro
This is the 26th Nitro range we've marketed in France. I've noticed an interesting phenomenon; the clientèle are genuinely getting younger – they are the children, nephews and nieces etc. of the customers we had 15 years ago. In terms of shapes and carving, the youngsters are discovering things that are obvious to us!
The snow that fell in abundance on Sunday 13th January at the Rock On Snow Pro completely changed people's mood. We're in a difficult climate in France, and we're seeing a lot of relaxed people who come, change their mind, and enjoy the new 2019-2020 boards they try out.
There are some little things to iron out, but given that 95% of everything is working well, there's no point getting hung up on them – they're just a few minor details that need sorting out. Overall, it's positive – we've seen a lot of people.
Jeff Rochas – K2
Our impression of the event is like n-1 for this first day. The roads were tricky because of the snow, but the shops put in the effort. Some came from afar – that's a good sign.
In terms of K2, the feedback was good. We skewed the test stock as best we could, given the conditions, with more boards tending towards backcountry, because we knew there was going to be a lot of snow, and that everyone would want to play around in the powdery stuff. So we brought along our board from the Enjoyer range, which are a bit longer and a bit wider. It's the latest trend, and that's why people came. We even had people try out our splitboard Maruder. We're really happy with this first day.
Guillaume Marage – Lib Tech and Gnu
The shops are always keen on the tests – it's a good way of helping them choose what to buy, and for offering advice to customers. We've got good snow conditions – it's a good thing, even though the snow slowed a few people down. It's Mervin's European team presenting on the stand, because in addition to French retailers, there are a dozen or more core English shops who have made the trip down to La Clusaz, of the thirty or so that make up the GB market.
Romain Chauquet – Niche
On the market for the first time this winter in France, at Niche's first outing at Rock On Snow Pro, the aim was to raise awareness of the brand. We came with a dozen or so test boards, and about thirty or forty tests have been carried out: there have been more tests with Niche than with the Flow board I used to sell back in the day!
There is interest in it because the product in itself is friendly and the eco-design concept is unique, with the board being 100% recyclable. It's attractive to an older demographic of 30-35s, who eat organic, who have been sensitised to such issues, who have a certain purchasing power and who want a product that stands out from the crowd.
Sylvain Faivre – Smith
The organisation is straightforward, as usual. We're lucky in that the snow has fallen to order. Snow and fog – the perfect conditions for testing masks: all our test stock is out at the moment, and we've had some very good feedback from the retailers. On the other hand, people are less on the lookout for helmets.
In terms of footfall, we had quite a lot on Sunday – there are a lot of people and shops around: English, Italian, Swiss, and French, of course!
It was a good idea to organise a dinner for everyone to meet up on the Sunday