THE meeting for the snowboard industry
Snow Avant Première, a 17th edition beating all the records
A record snow fall, to start with! A record number of tests with 3748 products tested, +12% compared with 2017. The biggest test day ever conducted in 17 years was on Monday 15 January, with 1564 snowboard tests, and 1759 tests when accessories are included. There was also a record number of accessory tests, as with Smith, present for 12 years at Snow Avant Première, "In one morning, we had already done 40 tests which is very positive, because we normally do 40 or 50 tests a day," says Sylvain Faivre, adding, "Snow Avant Première is an essential meeting at the beginning of the season which allows us to show and test new products to retailers before ISPO, but also to have feedback on the current season and news of the upcoming season. For example, we are launching the I/O Mag with a magnetic lens change system for 2018/2019."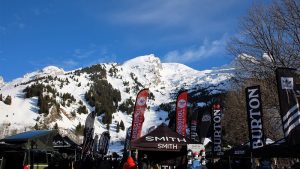 41 brands were present: most of the hardgoods brands on the market –boards, boots, bindings -, Burton, Nitro, Rossignol, Salomon, K2, Ride, Bataleon, Capita, Rome, Amplid, Dupraz, just to name a few, but also smaller brands like Goodboards. Textiles with Picture, Wear Colour, Rip Curl, Horsefeather, ingredient and accessory brands: goggles & helmets with Giro and Smith, Dragon and Melon goggles, Stance socks, Pow gloves…
At Snow Avant Première organised by Sportair, we can meet snowboard legends like Serge Dupraz and his eponymous brand, Tommy Delago co-founder of Nitro, Peter Bauer, founder of Amplid, who enjoys coming every year: "It's the meeting for specialist retailers who really live the culture and who are interested in seeing our products before buying them for their shop. For our small brand, it's a great opportunity because we have no marketing power to make a noise. People talk a lot about our brand just because we have great products, like the Milligram splitboard. This event is a perfect opportunity to convince retailers to buy Amplid and to sell it! This year, we've released test boards like never before!"
780 people, 308 stores came to La Clusaz for the only B2B event dedicated to the snowboard, the only opportunity to snow test all equipment for winter 2018/2019. An attendance rate up 4% compared with last year. Good numbers, despite the bad weather on Tuesday 16 January, which slowed down the arrival of stores from surrounding resorts. Tuesday is generally the second busiest day after Monday.
In addition to French retailers from all over the country, the influx of English, Swiss and Belgian stores is growing (+ 2% foreign visitors, especially English and Belgian).
Among the retailers, regulars such as Eric Gros of Hawaii Surf in Paris, Steph Gros of ABS and Jean-Charles Beau of Addicted in Lyon. They give their impressions: "SAP 2018 was very good, I was able to test a lot of boards with my whole team. This event remains essential for me. This year again, Amplid remains a firm favourite. I tested the Step On Burton which works very well." Vague et Vent, a store and online sales site, came from Palavas les Flots and Paul, in charge of e-commerce, notes that "There is always a warm welcome. There were many brands to test and they played the game well by bringing a good range of boards in a wider range of sizes. Among the discoveries, the step in Nitro which is making its return, something to follow…"
Room for optimism : a new cycle for snowboarding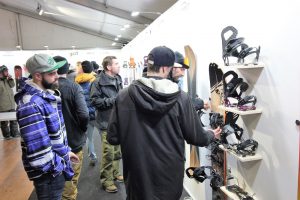 For Mathieu Kurtz, in charge of this trade fair in the snow, "This 17th Snow Avant Première remains a very good edition". Loan Dupont of Nitro agrees, "we are very satisfied with the attendance. On our side, we had a good event with the tests and good feedback on the range. Customers and testers were also pleased with what they could test and see at Snow Avant Première. We feel that they really come to test and see what they can do next year." With this snowy winter, business is more relaxed and minds are freer. The business atmosphere was nothing like the gloomy mood of the past two winters. "We have seen enthusiasm from the retailers," confirms Franck Rossignol of Burton. "However, this season highlights the projects that are moving forward and those who are in a more defensive position or who may be out of breath because, with the same data, not everybody has the feeling that the season is super positive," says Franck who notes a change in buying behaviour. "3 types of consumers are emerging: those who react to novelty and innovation, those who are sensitive to firm favourites and finally those who have a more reasoned buying behaviour." Damien Fenart, MD of Green Door (Nitro France) is optimistic, "we are turning a corner, the snowboard is coming back, so take pleasure in it and give pleasure also to your descendants!". The future of snowboarding will be through children and probably also through rental.
The rental corner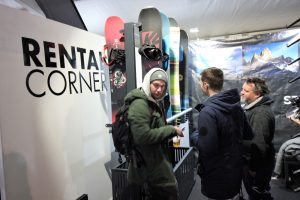 For this reason, Sportair has initiated the rental corner, a free access area dedicated to rental products. Presented in a rack, retailers were able to discover the different systems offered for rental by Rossignol, Burton, Nidecker, Nitro and PLUMsplitboard in particular. "In the marquee, we highlighted a space so that rental products could be seen in a differentiating way, because they are often hidden in favour of top of the range products. However, there is development and potential for snowboard rental: brands have created dedicated interfaces that help in the adjustment and storage of boards and bindings. We need to show this," thinks Mathieu Kurtz. For Franck Rossignol of Burton, "It's a first step, the formula needs to be expanded and supported not only to exhibit the products, but also to make sure that decision-makers in rental come to try the products or send people to do so." He goes further, « We must consider the obvious link between sales and rentals, that is to say, to be able to switch easily between renting and selling, as in skiing. Snowboard rental is going upmarket and renters who don't necessarily have a snowboard culture should be aware of this."
The new exhibitors at this 17

th

 edition : splitboard,  ingredients, textile and accessoiry brands.
The 1st participation by a 100% splitboard brand, the only French manufacturer, PLUMsplitboards from Haute-Savoie offers solutions for all splitboard users. "As a brand dedicated to splitboard, we are at the Snow Avant Première to highlight this activity. We were not present at previous editions owing to lack of budget, but today our presence as a brand is legitimate, as we are the only European splitboard manufacturers. We need to be represented, especially on our domestic market, where we have around twenty points of sale," says Ennia Poggio, head of communications. In the presence of its designer, Christophe Etallaz, and Gaël Armand, in charge of sales, the brand presented and allowed testing of its Prems and Talps splitboards, its Feyan binding system and presented its 2 new products: The DARI, a rear entry binding with Fastec technology, and the SOK, a model for hardboots. "People were interested to try, but there is a difference between liking the practice and choosing it for your store. This is where you have to convince people, both for rental and products for sale," says Gaël Armand.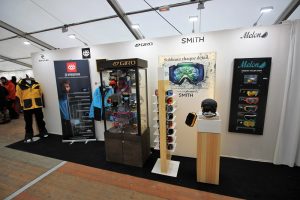 The world of split remains the main driver for innovation. At Salomon Snowboards, one could also discover the first detachable splitboard boot, the Trek, and the completely revised Première 4-part split which weighs 750g less than the old version and benefits from Aero core technology borrowed from ski mountaineering. K2 unveiled its new split binding with the Voilé system, Jones, the new Mind Expander split and Amplid a prototype under test, the Microgram, even lighter than the Milligram at 2.2kg for 158cm, who can say better than that!
For the first time Snow Avant Première welcomed 2 ingredient brands: the Boa lacing system and 37.5 technology.Created 17 years ago by an American snowboarder, today around twenty brands include the Boa system on their boots. Boa has extended to cycling shoes, ski boots, wakeboarding shoes, safety shoes, and recently running shoes. "We wanted to be present at this event to be in contact with the stores, it's a great opportunity. Many retailers came by, they were given Boa repair kits: they have been very receptive," says Alexander Pollock, representative for France.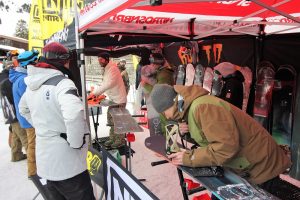 37.5 represented by Edouard Liffran, managing director for Europe, opted for a stand and tests of jackets from Rip Curl, its historic partner. "We wanted to focus on this simple and mechanical technology, based on natural particles used in two ways: either incorporated in the thread or in the membranes. These natural particles – active carbons from coconut shells or volcanic rock dust – have 2 properties: 1) the ability to absorb moisture either as vapour or in the liquid state, 2) the ability to absorb the infrared emitted naturally by the human body. Consequence: Moisture is pushed from the inside to the outside of the garment or clothing system.". The 37.5 technology, a reference to body temperature, keeps the body dry, but also keeps the body's internal temperature constant. Like Boa, 37.5 has expanded its market: from purely sports brands, it has opened up to work clothes, special forces, bed linen, and over-mattresses. Next winter, Rip Curl is launching puffers with 37.5 quilting.
Among the newcomers, Horsefeather snow wear and Melon eye wear are targeting the French market. For Horsefeather, a Czech brand, though founded in Canada in 1989, it is a return: "Present 5 or 7 years ago, we are now returning to the French market. The retailers we have seen are receptive to the look, the quality and above all the price. We should achieve good results," says Patrick Bourgeois, the new representative for the whole of France. Melon Optics presented and allowed testing of its concept of customisable goggles and sunglasses, "We want to be in the French market, which is why we are present at Snow Avant Première. The tests went well, all our models came out well," says Neil Slinger.
An idea to be pushed
Among the changes initiated, by providing a consumer pass Sportair gave 30 stores the opportunity to invite one of their customers to discover Snow Avant Première behind the scenes. "Retailers were free to designate a frequent customer or to offer the pass as a prize, the idea being to generate traffic before Christmas," says Mathieu Kurtz, who also notes that this initiative was not taken up much, "It has been started, and must now be given time."
Finally, wherever there is snowboarding there is atmosphere; on the Sunday, the organisers offered an aperitif for discussions at the end of the day, to debrief in a spirit of networking. On the Monday, this was done in partnership with Nitro, which screened its movie 28 winters narrated by Tommy Delago, the co-founder of the brand.
 Snow Avant Première, the place to B(2B). See you in January 2019
 Calendar for coming winter events organised by SPORTAIR
 SKI TEST TOUR Serre-Chevalier, 5-6 February 2018
SPORT-ACHAT HIVER, Lyon 12-14 March 2018
Press Contact
Florence Pezet-Bertrand –  Tél : +33 (0)4.50.095.091  –  florence@sportair.fr – (Photos sur demande)
Communiqué de presse SNOW AVANT-PRMIERE BILAN
Press release SNOW AVANT PREMIERE 
BRANDS PRESENTED ON SAP 2018